NAJAVE
Lemmy we salute you 23. prosinca u Jabuci
Program će započeti u 23 sata, ulaz je besplatan i happy hour do ponoći, dok će nakon ponoći ulaz koštati 20 kn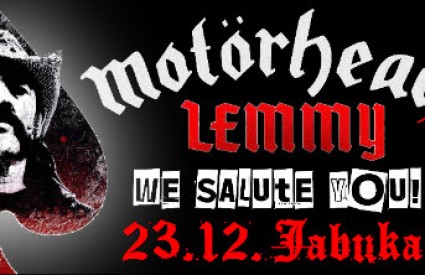 Motorhead night u Jabuci (Twilight Promotion)
U petak 23. prosinca će se u zagrebačkoj Jabuci održati večer posvećena rock'n'roll legendi Ian Fraser "Lemmy" Kilmisteru povodom prve godišnjice smrti (preminuo 28. prosinca 2015.).
Lemmy je bio lider jedne od največih i najutjecajnijih rock'n'roll grupa svih vremena, Motorhead! Na programu će biti projekcija filma konceta Motorheada, a nakon toga presjek radova grupe Motorhead.
Od 01 sat iza ponoći kreće standardni aler rock jabučarski program sa nešto malo više Motorheada. Za glazbu će ovoga puta biti zaduženi Tomi Phantasma i Schultz, a na repertoaru će tako pored Motorheada biti Alice In Chains, White Stripes, AC/DC, Metallica, Ramones, Misfits, The Damned, Rage Against the Machine, Soundgarden, Queen Of Stone Age, Arctic Monkeys, Red Hot Chili Peppers, Sonic Youth, Mano Negra, Jane's Addiction, Faith No More, Sex Pistols, The Clash, Anti Nowhere League, Iggy & The Stooges, Skunk Annansie, Pixies, Big Black, Disciplina Kičme, The Cult, Danzig, Buthole Surfers, The Cramps, Gun Club, Fugazi, Revolting Cocks, Dead Kennedys, Beastie Boys, Chemical Brothers, Neurotic Outsiders, Offspring, Body Count, Killing Joke, Nick Cave, Violent Femmes, Jesus & Mary Chain, Depeche Mode, Smashing Pumpkins, Arctic Monkeys, Placebo, Muse, White Zombie, The Subways, Ministry, Rammstein, Hladno Pivo, Kawasaki 3P, Dubioza Kolektiv, Let 3, Majke, ......
Program će započeti u 23 sata, ulaz je besplatan i happy hour do ponoći, dok će nakon ponoći ulaz koštati 20 kn.
20.12.2016. 14:29:00
http://metro-portal.hr/lemmy-we-salute-you-23-prosinca-u-jabuci/102034/